JCW Receives Great Place to Work Accreditation for Third Year Running
30 Nov, 2022
5 minutes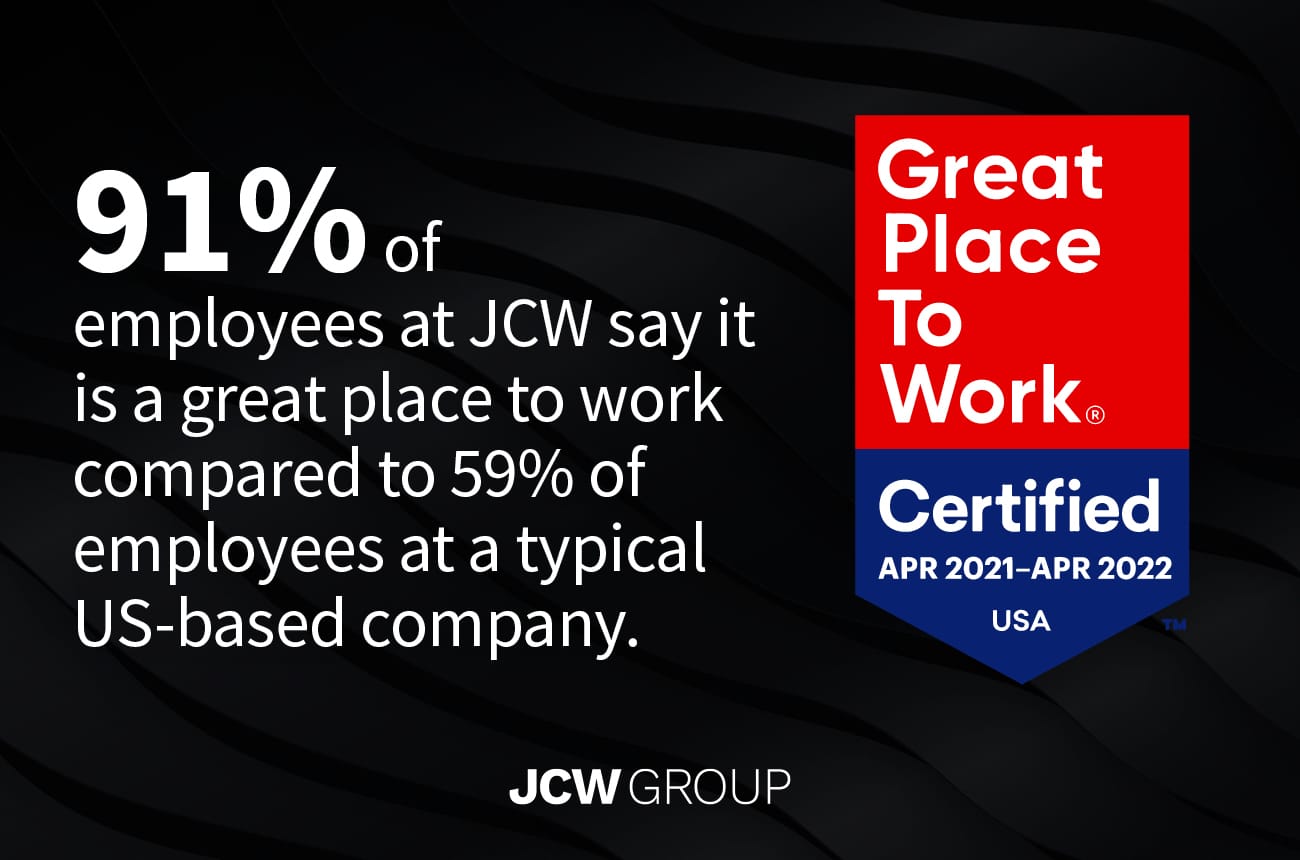 91% of employees at JCW Search say it is a great place to work compared to 59% of employees at a typical U.S.-based company.
As a recruitment business, we know the importance of making the right hires and cultivating an environment that creates happy and motivated people that want to stick around.
So having an award-winning culture of our own is integral to our business and our people.
It enables us to hire top-tier people, whilst retaining the talented group that have helped JCW to grow into what it is today. It's those happy, motivated and determined people that are the driving force behind the long-standing relationships we've forged with our customers after all.
What's even better is that this award is entirely a result of employee feedback from people at all levels of our organisation – not just those with the loudest voices at the top. We truly believe that if our own people are happy, we're doing things right, so we were delighted to learn that 91% of our employees saying that JCW is a great place to work – for a third consecutive year.
In addition to 91% of the workforce believing JCW is a great place to work, results include:
100% – Management hires people who fit in well here.
100% – People here are given a lot of responsibility.
97% – Management is competent at running the business.
97% – I am offered training or development to further myself professionally.
97% – I am given the resources and equipment to do my job.
For us, a great culture is the culmination of a number of factors which benefit everyone in the business as well as the business itself. We believe a healthy culture ultimately nurtures grit, drive and determination and encourages us all to seek to be the best in everything we do, so that we can all celebrate success together.
Et Halstead, CCO at JCW commented "I'm immensely proud of the team we've built at JCW and the positive and determined attitude that we all collectively display. It's having people with this attitude that all believe in the same vision that gives us such a unique and sticky culture, and ultimately what keeps everyone happy.
In particular, the resilience everyone has displayed throughout a difficult year and how as a group we refused to flinch in the face of the pandemic has only reinforced what our global team of Dubbers can achieve together for 2021 and beyond!"
This recognition follows a number of workplace accreditations we've achieved over the previous few years, including the recent SIA Best Staffing Firm to Work For award we received in March for performance in engaging with employees and creating a workplace that encourages talent development, enjoyment, productivity and collaboration.