JCW named in inc. 5000 for 3rd year
30 Nov, 2022
5 minutes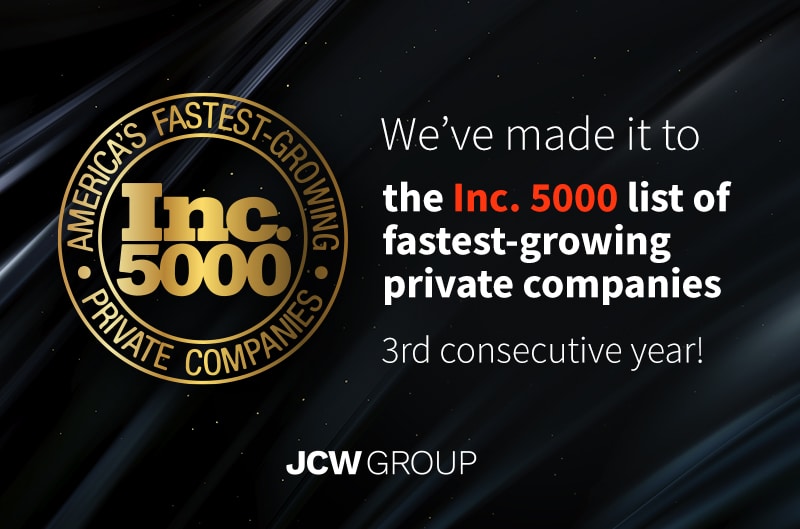 JCW named in Inc. 5000 for 3rd consecutive year, ranking #673 with Three-Year Revenue Growth of 697.58%
Inc.
magazine has revealed that JCW is No. 673 on its annual Inc. 5000 list, the most prestigious ranking of America's fastest-growing private companies.
The list represents a unique look at the most successful companies within the American economy's most dynamic segment—its independent small businesses. Intuit, Zappos, Under Armour, Microsoft, Patagonia, and many other well-known names gained their first national exposure as honorees on the Inc. 5000.
Jamie Woods, CEO at JCW commented "I'm incredibly proud of the fact that we've not only secured three back-to-back years on the Inc 5000, but that our most recent entry was also our best placing. The strength of the team that we have in the USA is, in my opinion, unlike anything else that exists in the market, and this growth is a reflection of that. I fully expect us to return to this list next year."
Not only have the companies on the 2020 Inc. 5000 been very competitive within their markets, but the list as a whole shows staggering growth compared with prior lists as well. The 2020 Inc. 5000 achieved an incredible three-year average growth of over 500 percent, and a median rate of 165 percent. The Inc. 5000's aggregate revenue was $209 billion in 2019, accounting for over 1 million jobs over the past three years.
"The companies on this year's Inc. 5000 come from nearly every realm of business," says Inc. editor-in-chief Scott Omelianuk. "From health and software to media and hospitality, the 2020 list proves that no matter the sector, incredible growth is based on the foundations of tenacity and opportunism."
JCW was founded in 2007 and opened its first American office in New York in 2012 and launched its Los Angeles office in 2017. Now the JCW Group, the business has three brands; JCW, Catalyst Life Sciences and Cybernetic Search with offices in London, Frankfurt, New York and Los Angeles.