JCW fundraising helps Myotubular Trust with clinical trial
30 Nov, 2022
5 minutes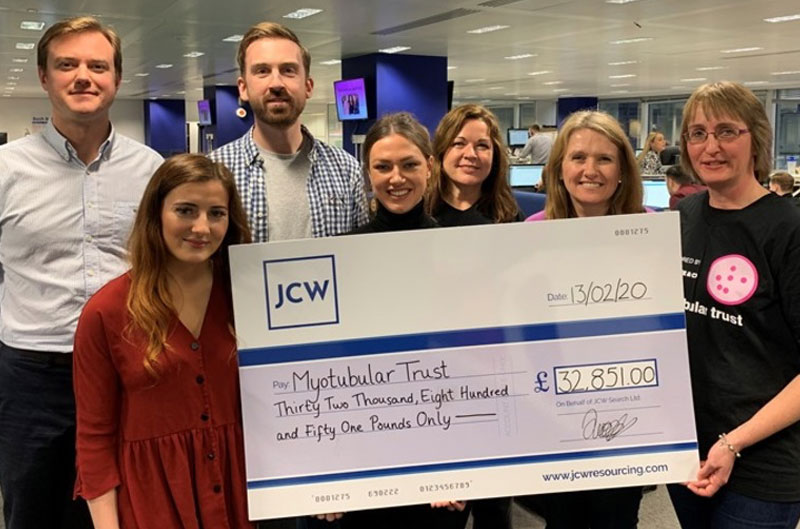 We welcomed the Myotubular Trust team into our London office recently to find out more about the work they do and present them with a cheque for £32,851.
That's what we've raised so far in 2020 and comes off the back of our Black Tie event in January that included a company-wide raffle and auction.
It was fantastic to hear about the charity's upcoming clinical trial and great to know we're ale to help with the fundraising so far able to cover 50% of the clinical trial costs.
We're all keen to help as much as possible and look forward to more charity events throughout the year.
From the Myotbular Trust
We are delighted to announce that the Myotubular Trust are co-funding a clinical trial with the charity arm of the world-renowned Great Ormond Street Hospital (GOSH), and Sparks, the children's medical research charity. This is following our joint research grant call in 2019. It is a real honour to be partners in the UK's largest charitable grant-making scheme of its kind, dedicated to paediatric rare disease research.
Studies funded by Myotubular Trust grants (2014-2016), discovered that Tamoxifen, an anti-cancer drug, can significantly improve the symptoms associated with x-linked myotubular myopathy. Tamoxifen also has the benefit of having low side effects in both adults and children. It is not costly, is widely available and is already being taken safely by children for a range of other conditions.
The aim of this grant award is to prepare for, and run a clinical trial to test how well Tamoxifen works in improving motor and respiratory function. The trial will be led by Dr Giovanni Baranello, and Professor Francesco Muntoni, at the UCL Great Ormond Street Institute of Child Health. While not yet recruiting patients it is possible to register your interest in this, or any other clinical trial at GOSH.
If this study is successful, it could provide the first widely available therapy for myotubular myopathy, either as a stand-alone treatment for patients not eligible for gene therapy or other treatments, or as a valuable additional treatment.