Robotics Engineer Skills to Hire for
30 Nov, 2022
5 minutes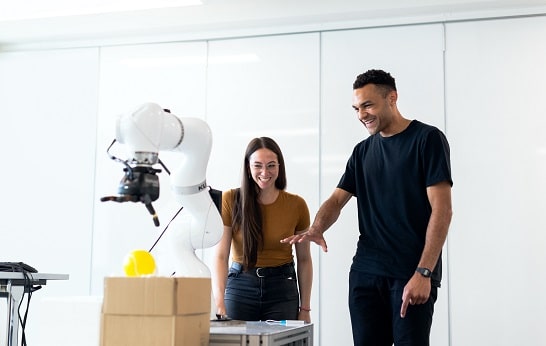 Robotics Engineer Skills to Hire for
Find the Talent You Need for Today and the Future
You need a talented
Robotics Engineer
to join your team. What skills do you need to be searching for in your hiring process?
You're right to pay attention to hiring tactics – robotics engineers are in demand. With industries across the board turning to automation, McKinsey & Company report a global economic impact of $4.5 trillion for advanced robotics. Hiring the right robotics engineers delivers serious competitive advantage.
Why Do You Need a Robotics Engineer?
Every business today needs to advance its processes for safety, efficiency, and speed. To do this, mundane tasks are being delegated to robots. All safety precautions are monitored, analyzed, and identified to reduce risk to employees and improve equipment maintenance. When robots perform such processes, valuable employees become free to focus on humanized skills that can't (yet) be replicated.
No matter the industry – from agriculture, to healthcare, to hospitality – robotics is the key to improving safety, productivity, revenues, and the bottom line. And key to this is the Robotics Engineer: a crucial link between electronics, mechanics, computer science, and human need.
What Skills Are Essential to the Role?
Clearly defining the skills that you need your
Robotics Engineer
to possess will ensure you hire a talented candidate who can make a difference from day one, and who can be nurtured within your organization. The essential skills criteria include:
Math and Science
Math is a core skill that cannot be developed within the role – it must be in situ prior to a career in robotics engineering. You must look for a strong history in math and science. Test candidates' ability to:
Write equations and formulae
Understand robotic movement to improve maintenance, function, and longevity
Apply math to solve and predict problems
Programming Mindset
Programming is a broad field of specialty. An ideal candidate must have programming knowledge, particularly disciplined in software, hardware, electronics, and real-word robotics. With over 1,500 different languages, a great candidate will be willing to develop further with new languages to advance within your organization.
Systems Thinking
Knowledge in various disciplines – electronics, electrics, mechanics, programming, sensing and cognition – will enrich an engineer's understanding of the robotic system as an entirety, as opposed to complicated and individual systems that operate it.
Creativity
Excellence in robotics requires creative flair – the ability to think beyond math and science to boost marketing and development skills and move your business ahead of your competition.
Camaraderie and Communication
To develop and test a product as well as give and receive feedback, communication is key – and a highly desirable soft skill that mustn't be overshadowed. Engineers will often work in teams, and so the ability to share ideas and results, and brainstorm collaboratively, is crucial.
Active Learner/Adaptability
Programming we've already mentioned. The robotics industry itself – through technique, demand, materials, and ways to design – is ever changing. Self-developers are highly sought.
Complex Problem Solving
Building a robot is one thing; fixing it is another. Your best candidate won't suffer frustration and impatience through trial and error. They'll showcase persistence – a crucial element to understand and resolve issues in design, repair, and development.
Judgement and Decision Making
As well as excellent problem-solving skills, be sure that the candidate also has the confidence to make decisive judgement and act upon a knowledgeable decision. Robotics can throw up an array of choices. Advanced critical and analytical thinking will support an individual's ability to make a strong judgement call, reducing waste on time and cost.
How Do You Hire the Robotics Engineer You Need?
All these skills create a winning formula for the perfect
Robotics Engineer
to join your team. From here, you must create an expertly written job description that attracts such skills to your organization, and that eliminates time-consuming candidates who won't be able to fulfil the role. With a clear picture of who it is you're looking for, test candidates' technical ability, and seek cultural fit in the interview stage.
Here at Cybernetic Search, we've done the hard work for you. We've filtered through the high-spec skills you need, so that your hiring search starts with some of the strongest Robotics Engineers candidates available. Carefully selected and already vetted, we source the talent you need to attain and surpass your business goals. Contact Cybernetic Search today for more information.