Interview Tips
30 Nov, 2022
5 minutes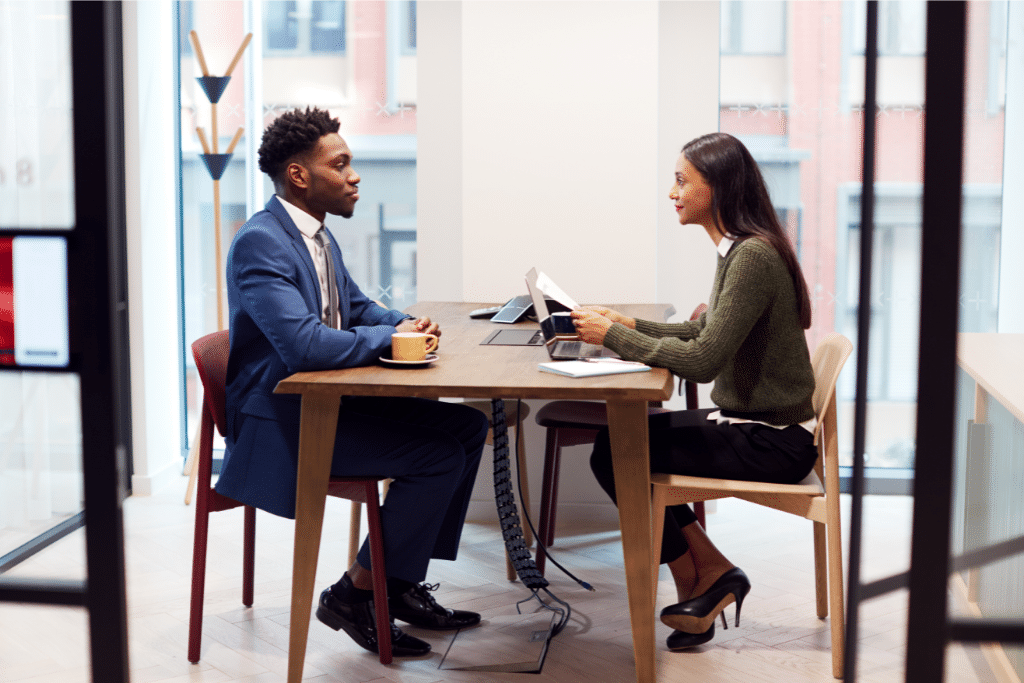 Interview Tips
Getting an interview is a fantastic achievement. This is your opportunity to meet people from the business and convince them that you are the right person for the job. However, this is not just an opportunity for the business - this is an opportunity for you to see if the role and company is a good fit for you, both culturally and in terms of the work. So, it's exciting and nerve wracking in equal measure.
If you haven't done much interviewing, it's a really good idea to get some practice in. This will help you hone your answers, understand how to behave if you're put on the spot and generally give you more confidence before the actual interview arrives.
There's no shortage of interview preparation tips online. And even if you're not 100% about a role you've secured an interview for, make sure you turn up anyway - the practice is invaluable.
Step 1: Do your research
The first thing to do when preparing for an interview is research the company in a much detail as you can. This includes doing background checks on the company's history, ensuring you fully understand the job role, and learning about your interviewers. The website is often a great starting point for this, and you can also look for mentions of the company in the press, find out about award wins and check out their social media profiles to see what matters to them. If you're working with a recruiter or internal HR, make sure you ask them as many questions as you need until you're fully clear – that's the benefit of working with them! Make sure you know the dress code too, even if it's a video interview. Ask the recruiter or scope the company out to see what they usually wear.
Step 2: Anticipate the interview questions
Although you may not be able to predict what questions will be asked, you can absolutely prepare answers to anticipated questions. Look at keywords in the job spec to understand what you may be asked.
The STAR method is a good way of preparing for an interview:
Situation
What is the context of your answer? Where were you working and what was your role?
Task
What was the job or task you were doing that is relevant to the question?
Action
What actions did you take and why did you take them?
Results
What happened as a result of your action? Do you have statistics or feedback to refer to?
Using this method allows you to construct concise answers with a clear structure. If you go into the interview with some prepared answers for questions about challenges you've faced, things you're proud of, overcoming weaknesses and thinking on your feet, for example, you will perform far better.
Step 3: Practice your interview questions
Practicing your answers is crucial. It will help you deliver answers naturally and confidently. Practice with friends, or in front of a mirror. You can also record yourself and play it back to see what mistakes you make or where you can improve. If you can, arrange with someone to do a full practice interview.
If you are working with a recruitment firm, they might offer a practice interview service. If not, ask a friend to do it and take it seriously. It will show you where you stumbled, where there are gaps in your experience and how things like slowing down your delivery can make all the difference. Don't be afraid to ask the interviewer to rephrase or ask for more time to answer - it's always better to deliver a solid answer.
Step 4: Prepare questions to ask at the end of the interview
At the end of an interview, you will have the opportunity to ask questions – and you should always have questions to ask. This is a great chance to leave a great impression. Examples include asking about learning and development opportunities, or about career progression, or about the company's culture and approach. If all your questions have been answered during the interview, ask the interviewer about their career and their time at the company.
Step 5: Plan your route, and arrive early
This is essential preparation and you'd be amazed at the number of people who arrive late or go to the wrong place – all of which counts against you. Double check the location of the interview and plan your journey so that you will be there at least 10- 15 minutes before your interview time, and make sure to factor in any Covid protocols at the company (ask beforehand). Allow for delays on public transport, or the possibility that you won't be able to park where you expected to. It's better to be very early and get a coffee than rush in late, distressed, and unprepared. If you are running late and things are completely out of your control, always call the interviewer as far in advance as you can to explain – they may be able to move your interview to a different time to accommodate you.
Step 6: Dress appropriately
There are three key factors that go into deciding what to wear in the interview: company culture, your role, and your job title. For example, wearing formal attire may not be appropriate because the culture is casual, but if you turn up to a banking interview in your t-shirt and jeans, you'll create the wrong impression. If you're not sure what to wear, ask the hiring company or your recruitment consultant. Although the same rule applies - better to be overdressed than under-dressed.
Step 7: Your interview starts as soon as you get there
Will you be interviewing for a position in an office setting? If so, the receptionist will be your guide for this process. You should greet them with a smile and treat them with respect. Likewise, anyone else you come across in the office setting may be a future colleague, so bear that in mind.
You may be taking part in a group interview, and so the hiring manager will be observing how you behave with other people, to see how you will perform as part of their team. Be aware, be friendly, be proactive and be positive.
Follow the guide of the person you are meeting – it's likely that all you need is a confident smile, eye contact and a professional greeting.
Make sure you are well hydrated and have eaten a little before your interview – even if you are nervous. It will help to settle your nerves. You may be offered a drink when you get to the interview – again, it's up to you whether you think you can manage a cup and saucer without rattling them with nervous, shaky hands, or whether a glass of water is safer.
Step 8: Leave a good last impression

First impressions matter – and so do last impressions. You want your interview panel to feel confident in you personally. So, once you have asked any questions you have, make sure you thank the interviewers for their time, confirm that you are very interested in the role and feel it would be a good fit for you, and ask what the next steps are. You'll look motivated and interested in taking things further.
Later that day, follow up by email to HR/ your recruiter to say that you're interested in the role, and ask what the next steps of the process are.